EVENTS: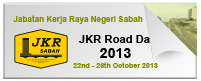 Visit us at our booth 22, 23 & 24
The Pacific Sutera Kota Kinabalu
22nd - 23rd October 2013

JKR HQ Kota Kinabalu, Parking Lots,
24th - 26th October 2013
Technical Testing Services

At Gamron Industries, we are committed to developing and manufacturing cost-effective solutions with the highest level of quality. As part of this commitment, we offer technical testing services to our clients to measure the retro-reflectivity of our products. This demonstrates our products not only meet the required specifications, but very often surpass the expected performance.